Based in Toronto, Canada, Ashbridge Partners is a privately-held, entrepreneurial investment firm that acquires and actively manages small to medium-sized businesses. Our goal is to partner with successful Canadian business owners who are looking to monetize value from their businesses and reduce their daily operating role. We look to partner with existing management teams, not replace them.
In Canada, medium to large companies have access to many forms of capital including bank financing, private equity, and the public markets. Smaller companies however, have limited options beyond simple bank financing. In particular, access to private equity capital is significantly limited for companies that find themselves within the smaller end of the Canadian mid-market ($1mm to $4mm in cash flow).
Ashbridge Partners was formed in January 2013 with the goal of finding opportunities that meet this profile and helping them to accelerate their businesses and build on their ongoing success.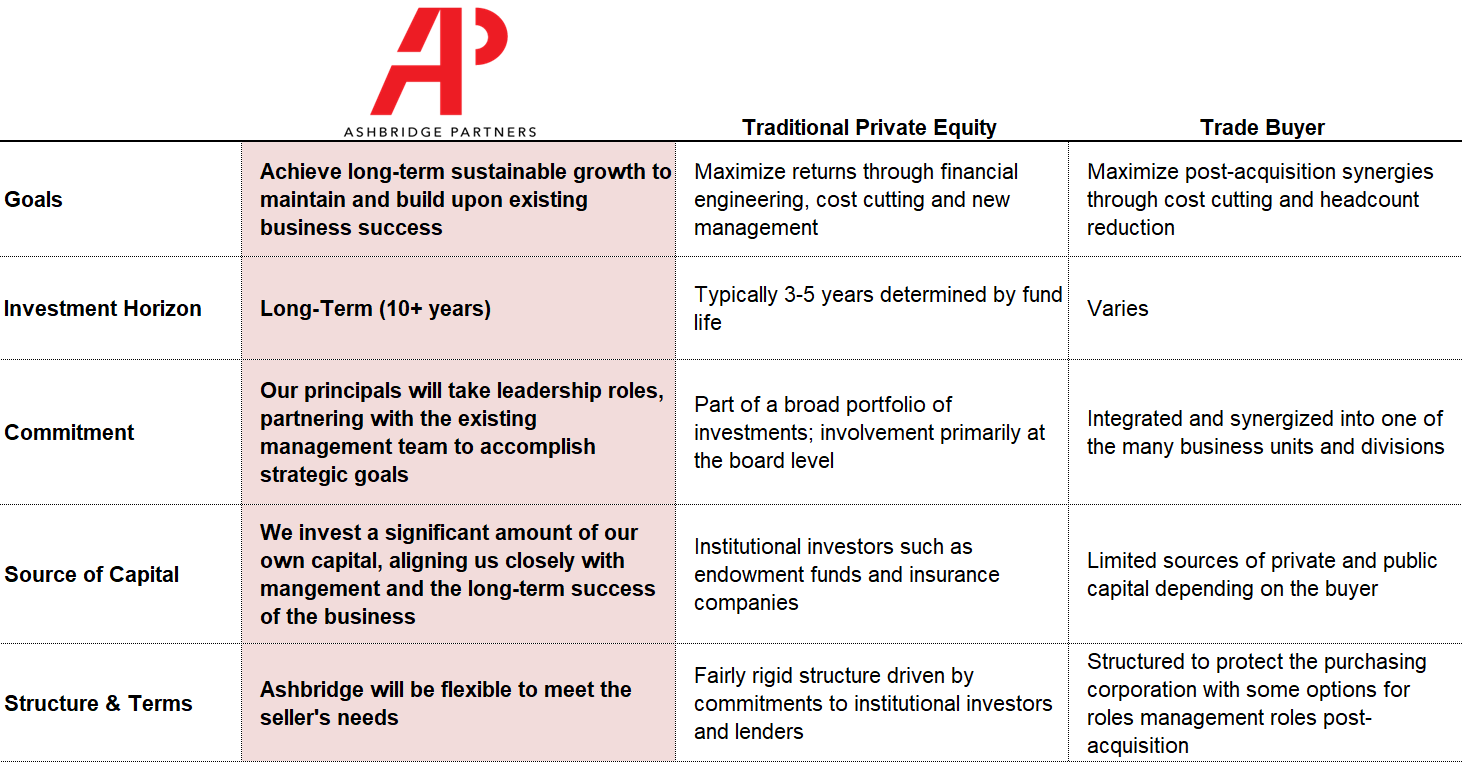 Who We Look to Partner With
Owners that find themselves in the following unique and tailored situations may be an ideal fit with Ashbridge Partners:
Owners looking to monetize some or all of the value they have created within their business
Owners looking to take a less-active day-to-day role in operating their business (and a more active role in non-business interests!)
Owners who want to ensure continuity and support for their existing management team and customers
Owners looking for a partner to act as an upstanding steward of the business and legacy they have built
Why is Ashbridge an Ideal Partner
We invest personally. Ashbridge Partners principals will invest substantial portions of their personal net worth in an acquisition. This ensures that we are completely aligned with the owners of the business and its management team and will always try to make the best decision when it comes to preserving the long-term value and sustainability of the business.
We join the management team. We look to partner with existing management teams, not replace them. If a need exists to strengthen the management team, Ashbridge Partners principals stand ready to fill that need. In particular, we can help strengthen a Company's finance department as well as lead acquisition and growth initiatives.
We are long-term investors. Ashbridge Partners does not manage a pool of capital for external investors. As such, we are not required to exit investments after a set amount of time in order to return money to our investors. This allows us to take a much longer term view (10+ years) when it comes to managing our investments.
We are Responsible Owners. Because we invest our own capital and don't have time constraints when it comes to our investments, Ashbridge can use more conservative capital structures than traditional private equity firms. We use responsible levels of debt, emphasizing long-term returns and growth over risky, financially engineered results.